3" Radzikone Lift Kit
for Suzuki Vitara I
(Doesn't fit to Suzuki Grand Vitara I)
Raises Suzuki Vitara's I suspension for 7,5cm.
Perfect for everyone who value convenience and comfort in city and off-road driving.
MORE INFO
Suzuki Vitara I with stock suspension is quite hard and not well in off-road driving.
With lift kit installed, not only the clearance is increased by 7,5cm
but the whole characteristic of the suspension also changes.

In the front, togheter with lift kit, entire range of shock absorbers is transferred.
This, with combination of better front springs characteristic improves suspension and comfort.
It is especially noticable while crossing the speed bumps (we will no longer bang the ceiling with our head :)
However, the most important is better suspension and comfort.

In the rear, 11cm longer gas shocks (6cm bigger stroke) increase the ramp travel index extremaly.
Longer KAYABA springs improve suspension and comfort.

Additionally, front diff drop bracket kit and rear control arm spacer and rear prop spacer make the drivetrain more resistant for demage and wear.
Lack of "tatra effect" (wrong front wheel angle).

In Spanish version of Vitara (Santana), front driveshafts modification required.

Summarizing:
Vitara with 7,5cm Radzikone lift kit drives better, more comfortable and off-road capabilities are increased extremaly.
(lifting the car with springs spacers will not give such an effect for sure :)
Kit contains:
Lesjofors front springs
Front bump stop spacers
Kayaba rear springs
Kayaba rear gas shocks
Front strut spacers with wheel angle adjustment (anty tatra)
Rear prop spacer
Front diff drop brackets kit
Rear control arm spacer
Longer venting hoses for differentials
Cable ties to loosen the hand brake
New bolts for rear shock absorbers
Installation instruction
Parts preceisly made of laser cut elements.
Certified, high quality steel.
Top quality welds.
Galvanized metal elements.
Powder coated (ISO 9001: 2008 certified).
Mounting bolts included.
Weight: 28kg.
No road approval.
2 years warranty.
We recommend Japanese KAYABA front shock absorbers



Photos and instruction how to install: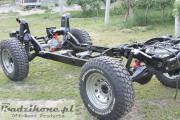 Prices for cars without front winch:
Use in
Price
3d 1.6 8v / 1.6 16v


Item code: R-SV316-L3O

2 045 PLNAdd to Cart
3d 2.0 16v and TD


Item code: R-SV320-L3O

2 045 PLNAdd to Cart
5d 1.6 16v / 2.0 V6


Item code: R-SV5PB-L3

2 095 PLNAdd to Cart
5d TD


Item code: R-SV5TD-L3

2 095 PLNAdd to Cart
4" (10cm) Lift Kit for car with winch or for more extreme use, we recommend.
---
Gallery:
Lift Kits for Suzuki Vitara I
3" (7.5cm)
Lift Kit


Suzuki Vitara I
4" (10cm)
Lift Kit


Suzuki Vitara I
2" (5cm)
Body Lift


Suzuki Vitara I
Lift Kits for Suzuki Grand Vitara I
3" (7.5cm)
Lift Kit


Suzuki Grand Vitara I
4" (10cm)
Lift Kit


Suzuki Grand Vitara I
2" (5cm)
Body Lift


Suzuki Grand Vitara I
Lift Kits for Suzuki Grand Vitara XL7
3" (7.5cm)
Lift Kit


Suzuki Grand Vitara XL7
4" (10cm)
Lift Kit


Suzuki Grand Vitara XL7
2" (5cm)
Body Lift


Suzuki Grand Vitara XL7